Yesterday was an incredible day for women's cycling. History was made as the women's race had not ascended Col d'Izoard (or any other mountain) since the 1980's, when the women's Tour coincided with the men's. Yes, kids. There used to be a women's Tour de France that rode the very same routes as the men's and the winners stood on the podium TOGETHER at the end of each stage. Why did that stop? I don't know, and I can't say it will be that way again. As a fan, I hope so.
Annemiek Van Vleuten of the Orica-Scott team won in a solo breakaway. A solo breakaway. SOLO. This woman, who crashed in spectacular fashion in the Olympics in 2016 and came back just a few weeks to race and win. This woman, who admits to not being a climber and purposefully trained for the past few months to turn herself into one. Eh, I'd say she did a great job.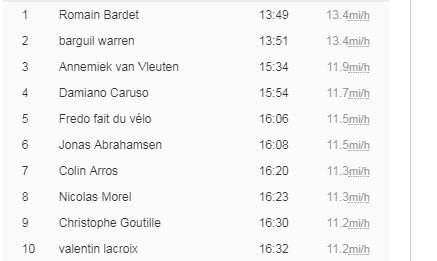 Strava's leaderboard has Annemiek 'Van Vleugels' (that's Dutch for 'Van Wings') as the third fastest to climb the last segment of the Col d'Izoard, bested only by the first and second place finishers in the MEN's Tour de France, Warren Barguil and Romain Bardet. Mind you, that segment is 10%. You also note that there isn't another woman in the top 10. I wonder if Lizzie Deignan and Elisa Longo Borghini (2nd and 3rd place finishers) would be right up there if they were on Strava.
In my indoor cycling class last night, we attempted to kick our own asses with a profile of the race. We simulated the early and often attacks, counterattacks, and the final climb at 95-97% of FTP, with the last 5km at 100-110% of FTP.  If anyone is interested in the profile itself, let me know if the comments and I'll make it available.
My playlist for the stage can be found on my Spotify here.  One song is missing though: imBalanced Chemicals (Burn Mix) by Methodic Doubt Music. Their stuff is available on iTunes.